The Feather River Resource Conservation District (RCD) provides assistance to farmers, ranchers, foresters, and other landowners with techniques to manage the natural resources on their properties, as well as up-to-date scientific and technical information.
​Once called the Indian-American Valleys Resource Conservation District, the Feather River RCD was instated in 1954. In 1993, the District boundaries were expanded to coincide closer to the boundaries of Plumas County. It was during this boundary expansion that the District's name was changed to the Feather River RCD. The Feather River RCD is located in the Sacramento Valley Region of California RCDs.regards to wildfire protection. ​
Our Mission
To advocate resource conservation through education and collaborative efforts with willing landowners and organizations that promote economic and ecological sustainability.
District Boundry
The District Boundary encompasses a service area of approximately 2,259 square miles (1,445,907 acres) including a variety of land owners and land uses. The District Boundary falls in and around many communities including Quincy, Portola, Genesee, Taylorsville, Greenville, Crescent Mills, Lake Almanor, Canyon Dam, and Chester. The District's boundary extends to the Lassen, Shasta, Tehama, Butte, Yuba, and Sierra County lines.
Our History
In response to the national "Dust Bowl" crisis of the 1930s, the federal government passed legislation in 1937 establishing the Soil Conservation Service (SCS). Local Conservation Districts were set up under state law to be controlled by board of directors in order to provide local input and direction to the SCS. In California, Conservation Districts have been formed in nearly all parts of the state beginning in the 1940s. Many have been consolidated over time and of the hundreds of districts that once existed in California, 102 remain. Soil Conservation Districts were originally empowered to manage soil and water resources for conservation, but these powers were expanded in the early 1970s to include "related resources," including fish and wildlife habitat. This expansion is responsible for the name change to "Resource" Conservation Districts in 1971.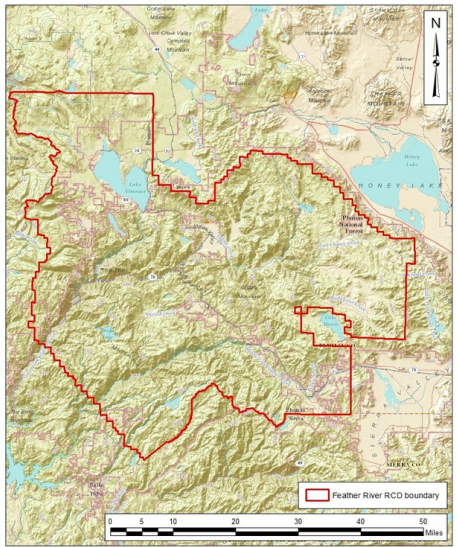 2023-2024 Annual Work Plan
Staff & Board Members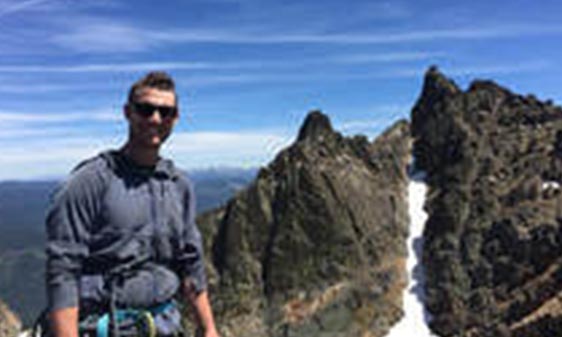 Michael Hall
District Manager
X
Michael Hall
District Manager
Michael Hall started working with the District in 2020 bringing with him a diverse and multidisciplinary background in natural resource management. He spearheads our conservation programs which focus on addressing issues in the unique forest ecosystems of Plumas County. Michael has worked as a wildlife technician, park interpreter, GIS specialist, trail builder, and grant writer for organizations in Colorado, Montana, and throughout the Sierra Nevada region. He hopes to combine these skills to implement projects that will not only the help natural resources, but the communities that depend on them.
​Michael lives in Quincy with his wife Mandy and dog Scout and enjoys a multitude of mountain sports. When not at work you can find them somewhere deep in the wilderness, often lost, seldom bored, and usually hungry.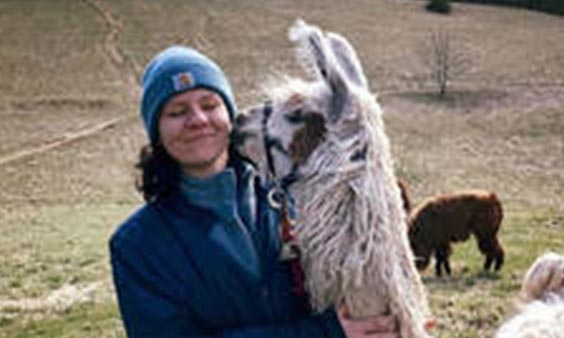 Julia Sidman
Conservation Project Coordinator
X
Julia Sidman
Conservation Project Coordinator
Originally from the Boston area, Julia came to the District in the spring of 2020 to work as a forestry technician on our Moonlight Fire Area Restoration Project. After receiving a degree in Forest Ecology from UMass Amherst, Julia has worked in various states across the country as a forester, trail builder, and outdoor educator. With a passion for forest health and resiliency, she is excited to contribute her skills to the RCD team and such important work! ​Julia enjoys hiking, struggling through crossword puzzles, and inundating friends and family with pictures of her cooking and baking adventures.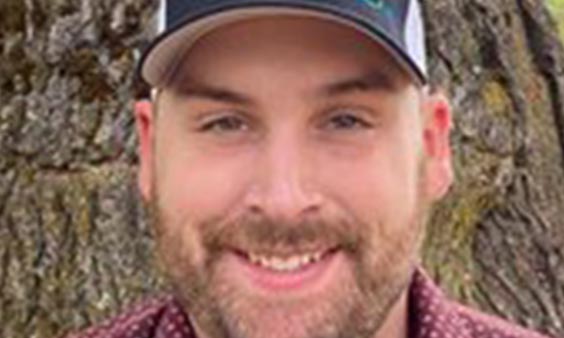 Brad Underwood
Conservation Project Coordinator
X
Brad Underwood
Conservation Project Coordinator
​Brad Underwood is a Plumas County native with roots in the community that reach back five generations. After earning a bachelor's degree in Biology from CSU Chico and working throughout the Sacramento Valley in wildlife and fisheries management, Brad returned to Plumas County in 2019 as a forestry technician with the Feather River RCD. In working with the RCD, he hopes to bring a local voice to the table while developing projects that will conserve and enhance the district's resources and communities. He currently serves as a Conservation Project Coordinator at the RCD, where he is most notably involved with the Moonlight Area Reforestation Project and projects within the Crescent Mills Wetland Conservation Area. Brad spent much of his childhood on cattle ranches and in the mountains surrounding Indian Valley. He and his family enjoy the resources of the area by hunting, fishing, woodcutting, and taking advantage of the many forest roads and OHV trails within the county.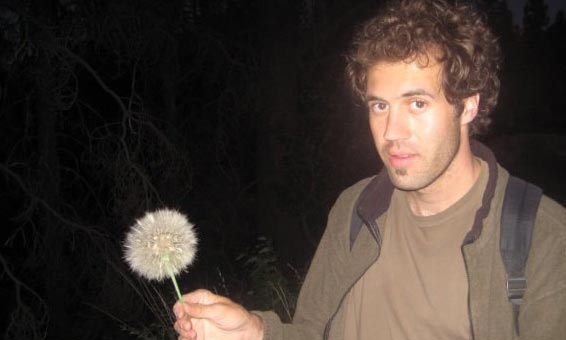 ​Leaf Van Pelt
Operations Manager
X
​Leaf Van Pelt
Operations Manager
Having grown up in Plumas County, Leaf brings a lifetime of knowledge of experience living and working in the area. After graduating with a BA in Liberal Arts from Saint Mary's College of California, Leaf spent several years traveling the world gaining useful perspective to bring back to his community of Plumas County.
Leaf places strong value in his community and the environment surrounding it and has found an avenue to promote the worth of natural resources and the importance of their sustainability through working with the RCD. Leaf started as the Operations Manager with the RCD in May 2021 and is dedicated to being a supportive and effective addition to to Feather River Resource Conservation team and its partners.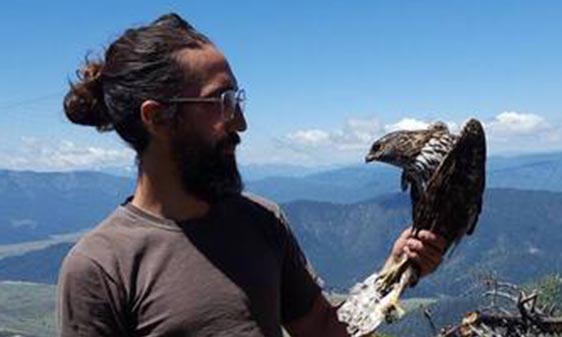 Mitch Poling
Field Operations Manager
X
Mitch Poling
Field Operations Manager
Mitch Poling grew up in Michigan and attended Grand Valley State University. There, he studied natural resource management, with an emphasis on wildlife management and ecosystem restoration. He moved here with his partner Jac and his dog Milo, and they pretty quickly became enamored with Plumas County. With its unique ecology and beauty, Mitch decided that this is where he wanted to work to promote the wellbeing of wildlife and the ecosystems that they reside in.
While living here, he has done surveys for Northern goshawks, black-backed woodpeckers, California spotted owls, Sierra Nevada yellow legged frogs, willow flycatchers, and carnivores, as well as various habitat restoration and fire management efforts. Mitch started working at the RCD in 2021 as a forestry technician.  He enjoys a good hike, camping, birding, fishing, reading old sci-fi novels, playing guitar, experiencing new music, watching old cartoons, and relaxing by the creek. Mitch's favorite bird is the Hermit thrush!​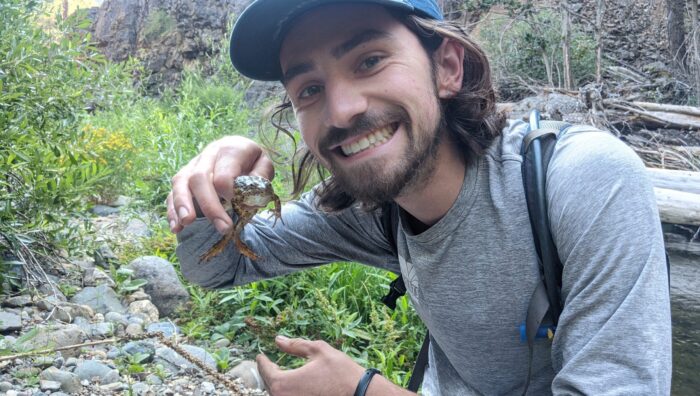 Miles Brooks
GIS and Forestry Technician
X
Miles Brooks
GIS and Forestry Technician
Miles Brooks grew up in the Bay Area and graduated from Wesleyan University with a degree in Environmental Science and Environmental Studies. Since graduating, Miles has worked as GIS specialist for research projects and as a Habitat Restoration Specialist for a non-profit in the Bay Area. Miles started as a Forestry Technician with Feather River RCD in March 2022, and has remained on staff as a GIS technician. He is excited to assist in the restoration of burned areas and the management of California's forests. He hopes to bring his background in native plant ecology and community engagement to the District.  When he is not working, Miles enjoys riding his bike, playing board games, and community gardening.
Board Members
Nils Lunder
President of the Board
Russell Reid
Vice President of the Board
James Wilson
Treasurer
Jon Dvorak
Gary Parque
Meetings & Resources
The Feather River RCD meetings are the first Monday of every month at 12pm in the Plumas County Planning and Building conference room at 555 Main Street in Quincy, CA. If you would like to receive information on FRRCD meetings please contact us to be added to the FRRCD mailing list and receive meeting announcements and reminders.