In 2005, the Feather River RCD became the stewards of a newly created wetland area in Crescent Mills.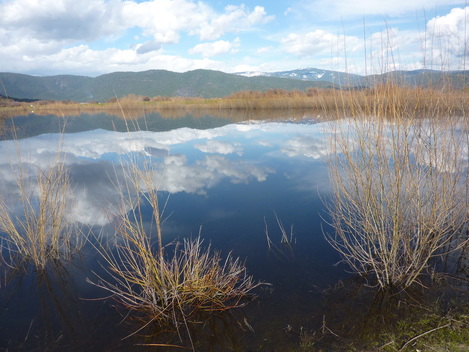 The Crescent Mills Wetland Conservation Area is owned by Caltrans and managed and maintained by the District. Formerly the location of a lumber mill, the site is gradually being restored with native plant species and improved hydrologic function. These improvements have led to a noticeable increase in wildlife. The site has also been used by the Greenville High School Natural Resources Academy students as an outdoor classroom where they have helped eradicate noxious weeds, learned vegetation monitoring techniques, and helped plant willow stakes.
The initial earthwork, consisting of removing fill material and contouring basins for the created wetlands, occurred in August -October 2004. Upland areas disturbed by construction were hydro-seeded in October 2004. Subsequent plantings have occurred in late 2008, spring and fall 2009, fall 2010, spring and fall 2011. Vegetation monitoring, noxious weed removal, and wetland species plantings have been part of the ongoing maintenance of the Wetlands Mitigation Site.
Beginning in January, 2010, the Feather River RCD assumed responsibility for monthly monitoring and intensive monitoring during a 21-day period during the growing season.
The dredge spoil berm along Indian Creek and the east edge of the CMWCA was removed in August-September, 2011. This project was proposed and approved as a means to improve the hydrology of the site in response to a Notice of Non-Compliance issued by the USACE in September, 2008. The remediation project lowered the ground surface to match elevations on the opposite bank of Indian Creek. This approach has been called "passive restoration"; because it involves removing a human-made structure and letting nature take its course. The hydraulic study confirmed that the structure could be removed without causing property damage to adjacent landowners.